Top 5 No-code platforms to start your startup journey.
June 10, 2020
2020-06-10 3:55
Top 5 No-code platforms to start your startup journey.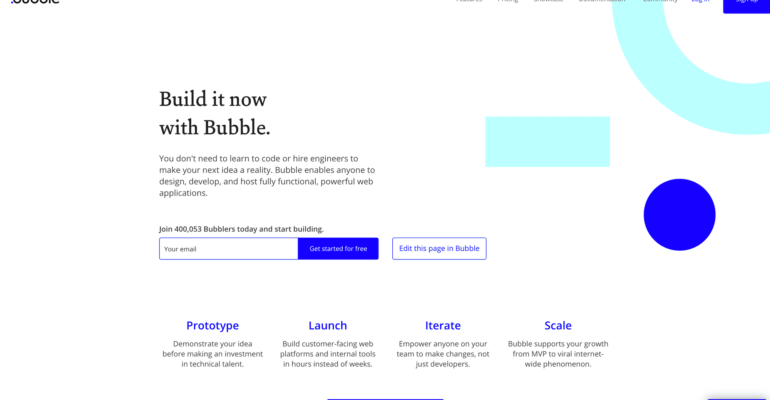 Top 5 No-code platforms to start your startup journey.
Through this post, I would like to help aspiring entrepreneurs who are non-technical to start exploring their startup idea by creating an MVP using these no-code platforms.
It was around 2007, that's we bought our first desktop – the big and bulky one back then. That got me introduced to the world of the Internet and technology.
As I started using the desktop and the web for my school and college projects, I was amazed by the possibility right in front of me – the opportunity to create something of my own for the world to use or access. I was still pursuing studies then, so I was not able to explore further.
Fast forward to 5-7 years, I completed my formal education as a Finance grad. I started exploring ways to create something of my own, without coding as I have never learned how to code.
That was the beginning of my No-code journey.
What is No-code?
No-code literally means without code or programming. You will be able to create something of your own without writing a single line of code. It could be an app, a website and more by just using no-code platforms
Which No-code platforms should I use?
There are various low code no-code platforms that allow you to build without code. These platforms are nothing but builders that would enable us the ability to create or build websites, apps, automation, and more. The way it works is usually as a drag and drop builder – you drag individual ready blocks or elements on to the main canvas and customize it further for your design requirements.
Limits of No-code platforms:
No-code development cannot replace traditional development. It will only offer ways through which you can start off a project to validate your idea. By using no-code platforms, you would be saving the time and resources of approaching a developer and spending $5000 only to realize that your idea isn't getting any interest.
Next, it is the scalability and flexibility factor. Building your project through custom development gives you the flexibility to create advanced features, add or remove elements, and also scale when necessary. This is not possible through no-code platforms as it is not designed for such a scale. Also, it is not a good idea to be under the control of some other platform when you are seeing a massive level of users, activity, etc. on your app. Also, data control is critical, which is not possible when you are under the control of another platform.
Now that we have understood the limits of no-code platforms let us go ahead and see the top 5 no-code platforms for you to try.
Bubble apps builder is a fantastic platform that gives us the ability to create advanced applications just through visual programming. You will be able to create interactive and multi-user, browser-based apps.
Using Bubble, you will be able to test your Minimum Viable Product, aka MVP, all by yourself without outsourcing the task of design and development to a developer or an agency. Even though Bubble helps you test the MVP and also acquire users, you would have to depend on specific third party solutions to build your project the way you want.
However, once you see the growth of your project and are required to add features and scale, it is always recommended to move to a fullfledged platform through traditional development.
Pros:
A revolutionary platform that offers fantastic design, database, and workflow flexibility that makes it one of the best apps for non-technical folks to create advanced apps too.
Cons:
A steep learning curve, and also requires some logic and design to implement a function through Bubble.
How about using Google Sheets to create an app? That is precisely what is possible through Glide Apps. You will be able to create an app in 5 minutes or less, just using Google Sheets and Glide Apps.
Pros:
It is one of the easiest ways to create a simple app. And as many glideapps reviews say, it is the best for their templates that allow you to start using it right away.
Cons:
There is some delay in sync from Google sheets to the interface. The app doesn't update immediately, which I am sure they would fix it in upcoming versions.
Appsheet is another glideapps alternative which was recently acquired by Google Cloud. It works like Glide apps but is not limited to just Google Sheets or only Google Drive. It goes a step further and integrates with most of the commonly used online storage services such as Dropbox, Box, One Drive, AWS, and more. Functionality wise, you can create apps with features like logging locations, delivery notifications, scan codes, integrate with other platforms, and more.
Pros:
Offers features such as team collaboration and insights.
Cons:
They should consider improving the user interface
Kissflow focuses more on businesses that are looking to automate business processes. It acts as a simple plug and play solution that offers 48 pre-built business applications that you would have to integrate together. You would be able to define and automate processes.
Pros:
Super customizable Totally code-free environment Offers custom reports
Cons:
Limited flexibility The interface could be better and more intuitive.
Fliplet is again a platform focus on businesses and it one of the most feature-rich no-code platforms that offer the ability to create native apps. Using their active components, you can create a custom app. It covers most of the commonly required components like calendar, messaging and chat, a news feed, filters, directory, and more, which act like features of your app. It also has an app gallery for some inspiration.
Pros:
Offer high-quality components to start off your project.
Has an excellent app gallery of companies that used Fliplet
Cons:
Has a learning curve and should get used to its builder
If you are a non-technical person like me, I am sure this list of best no-code platforms will help you validate your startup idea by testing the MVP without spending much time or money on resources.
Even though it involves a little learning curve, they have great resources and templates offered by each of these platforms for you to experimenting right away.